What is an "A-Wedge"? | Loft Degree and This Golf Club's Use
Golf wedges stamped with an "A" or "AW" cause a lot of confusion. In this guide, we'll explain what the "A" stands for, how much loft an A-Wedge has, and its purpose in a golf bag.
What is an "A-Wedge" Golf Club?
The "A" or "AW" stamped on certain golf clubs stands for "Approach" or "Approach Wedge."
Approach wedges are simply another name for a Gap Wedge (GW), a golf club with a loft between a Pitching Wedge (PW) and a Sand Wedge (SW).
It's also common for golfers to refer to one of these clubs as an "Attack Wedge."
A-Wedge Loft
An A-Wedge or Approach Wedge has between 48 to 51 degrees of loft, with 50 to 51 degrees being the most common.
An Approach Wedge/Gap Wedge, along with a Pitching Wedge, often comes with a set of irons.
It's helpful to think of your PW as a 10-iron and an AW as an 11-iron. Unlike Sand Wedges and Lob Wedges that are frequently used for shorter unique shots around the green, the two lesser lofted wedges will primarily be used for full or fuller partial shots (50%, 75%, 90%, etc. swings).
Because you'll be taking so many full or near-full swing shots with your PW and AW, it's crucial that they have lofts that give you good distance gaps in relation to your 9-iron.
Depending on a golfer's skill level and how fast they swing their clubs, they should hit their Pitching Wedge 9-15 yards shorter than a 9-iron on a full swing. A full swing A-Wedge/GW should then carry 9-15 yards shorter than their PW.
The loft required for proper distance gaps will depend on the design of your irons and the lofts throughout the set. Game-improvement irons sets aimed at beginner and high-handicap golfers typically have stronger lofts (less loft) than more traditional sets aimed at higher-skilled players.
As we've covered in our golf club lofts and wedge lofts guides, Approach Wedges designed for low-handicap golfers usually have 50 to 52 degrees of loft. Game-improvement A-Wedges can have as little as 48 degrees of loft.
Check out the table below to see the progression of iron lofts in game-improvement and more traditional iron sets.
| | | |
| --- | --- | --- |
| Club | Standard Loft (Tour Level Irons) | Strong Lofts (Game-Improvement Irons) |
| 4-Iron | 24° | 19° |
| 5-Iron | 27° | 21° |
| 6-Iron | 30° | 25° |
| 7-Iron | 34° | 28° |
| 8-Iron | 38° | 32° |
| 9-Iron | 42° | 38° |
| PW | 46° | 43° |
| AW/GW | 51° | 48° |
| SW | 54°-58° | |
| LW | 58°-64° | |
Choosing an A-Wedge/Gap Wedge
Golfers playing game-improvement irons or even less extreme cavity-backed irons will generally want to choose a Gap/Approach Wedge that fits with the rest of their iron set.
It's common to find iron sets made for mid to high-handicap golfers include GW/AW options, while bladed iron sets usually stop at PW.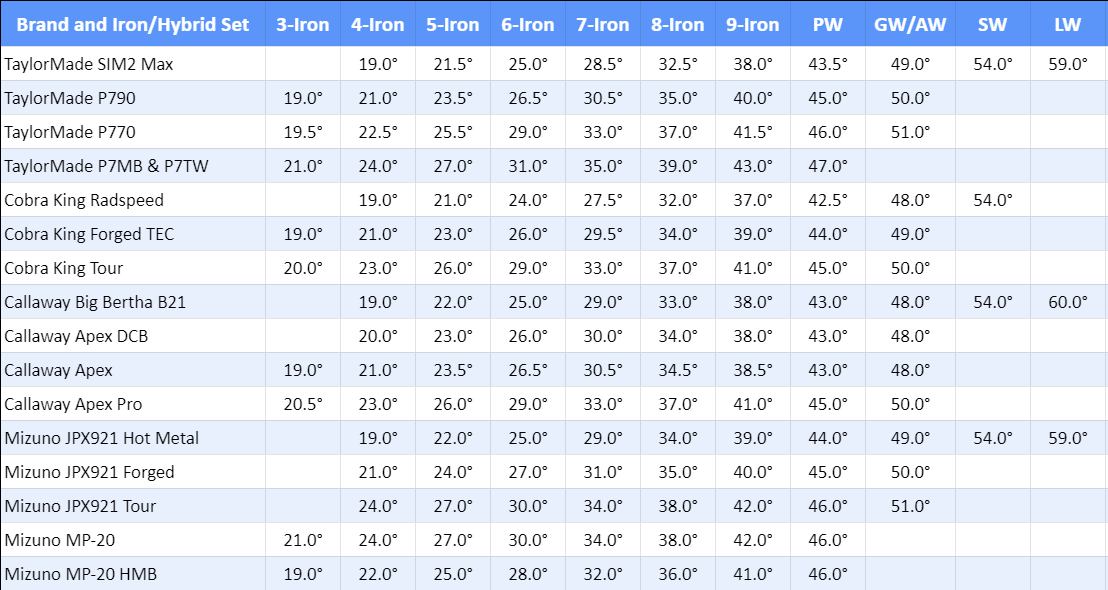 TaylorMade, Cobra, Callaway, and Mizuno Iron Sets Loft Progressions

Better players playing more bladed style irons may want to choose a more specific 50/52 degree wedge that fits their iron set and compliments their swing and the course conditions they typically play. It's fairly common to find that blade-style iron sets don't even offer an AW/GW, leaving it up to the golfer to choose the specific wedges they want to follow their Pitching Wedge.
The Club of Many Names
Depending on the manufacturer, you may see A-Wedges labeled or described as:
A
AW
Approach Wedge
Attack Wedge
G
GW
Gap Wedge
U
UW
Utility Wedge
50°
52°
All of these names are used to describe a club intended for the same purpose, to fill the loft gap between a PW and a SW.
Brands like TaylorMade and Callaway generally use some form of the A-Wedge designation, while brands like Cobra and Mizuno opt for the slightly more common Gap Wedge name.
Ping adds a third name to the mix, stamping their 2nd wedge with a "U" for Utility Wedge.
Wedges bought individually apart from an iron set will usually be stamped with their loft, for example, "50°" or "52°".
Whatever the club is called, most players find it is crucial to have a club that fills the distance gap between their Pitching Wedge and Sand Wedge.
Approach Wedge/Gap Wedge Vs Pitching Wedge
What's the difference between an Approach Wedge/Gap Wedge Vs a Pitching Wedge?
Clubs labeled as an Approach Wedge (AW) or Gap Wedge (GW) have more degrees of loft than a Pitching Wedge (PW). A full swing shot with an AW/GW should travel shorter than a PW, but further than a SW.
A standard Pitching Wedge loft is around 46 degrees, while an Approach Wedge/Gap Wedge has a loft closer to 51 degrees. Sand Wedges have even more loft, usually between 54 to 58 degrees.
As we mentioned earlier in this guide, we think it's helpful to think of a Pitching Wedge as a 10-iron and a Gap Wedge/Approach Wedge as an 11-iron. These clubs continue the loft progression of your set of irons.