What to Wear Golfing | Golf Attire Guide for First-Timers
Golf courses seem to get a bit more relaxed on their dress code each year, but most still have a basic set of rules for what you can wear on the course or even around the clubhouse.
Whether you're a new golfer asking "what to wear golfing for the first time?" or a more experienced player looking to upgrade your golf attire, we've covered everything you'll need below!
Preview: What to Wear Golfing

Golf Shirts
Our Thoughts:
The dress code at most golf courses requires a short or long-sleeved collared shirt for men.
Women can usually also wear sleeveless collared shirts.
Avoid shirts with large graphics or inappropriate graphics/words.
Vibrant colors, small to medium logos, small to medium repeating graphics in a pattern, and stripes are fine at most golf courses.
Shirts made specifically for golf are more breathable, deal with sweat better, and don't restrict movement compared to typical collared shirts.
Golf Shorts and Pants
Our Thoughts:
All golf courses allow nice slacks and golf pants.
Almost all golf courses allow nice shorts and golf shorts.
Women can also wear skirts, skorts, and capris at most courses.
Avoid denim, cargo pants/shorts, sweatpants, athletic shorts, etc.
Vibrant colors and patterns are permitted at most courses and clubs. In fact, more vibrant colors have been increasing in popularity.
Golf Belts
Our Thoughts:
Whether or not your golf course requires it, we recommend wearing a lightweight belt made from stretchy material.

A good golf belt will keep your pants up while being comfortable and unrestrictive to your swing.
Golf Gloves
Our Thoughts:
Golf gloves are entirely optional as far as any golf dress code is concerned, but almost all golfers wear them for improved performance.
Gloves prevent the grip of your club from slipping or rotating in your hand.
The majority of golfers wear one glove on their lead hand (the left hand for right-handed golfers).
If you have particularly sweaty hands or are playing in wet conditions, consider wearing gloves on both hands, though understand this is a bit less common.
Golf Shoes
Our Thoughts:
While not necessarily required at all golf courses, we recommend golf shoes to improve your traction while swinging.
Go for soft spike or spikeless golf shoes, as metal spikes are no longer allowed at most courses.
The best golf shoes are as comfortable as sneakers while offering improved traction and being waterproof/water-resistant.
If you don't have golf shoes, white or black tennis shoes should be permitted at the majority of courses. Avoid trainers, basketball shoes, boots, etc.
Hats and Caps
Our Thoughts:
Keep the sun and rain out of your eyes and protect your skin with a cap, visor, or hat.
There's often a rule against wearing a cap or hat in the clubhouse. Even without a formal restriction, it's frowned upon in many clubhouses.
Bucket hats offer the most protection from the sun.
Socks
Our Thoughts:
Comfortable and absorbent athletic socks that protect your heels are best for golfing.
White or black crew socks are most common, though some golfers opt for more vibrant colors and unique designs.
What to Wear Golfing | Golf Attire Guide
The golf attire list below will cover everything you need to meet the dress code of golf courses and pick a golf outfit that makes you feel comfortable (physically and mentally).
We'll start with the necessities, then cover a few additional items you should consider.
Golf Shirt
The majority of golf courses require a short or long-sleeved collared shirt for men. In addition to these options, it's common for golf dress codes to allow women to wear sleeveless collared shirts.
Your collared shirt should NOT have any large graphics/words, inappropriate graphics, or inappropriate words.
The Polo Bear on the above shirt looks like a total boss, but many golf courses wouldn't take kindly to such a large graphic on your shirt.
A family-friendly graphic like the Polo Bear may be fine at many courses, but nearly all courses would take offense if the graphic contained anything impolite.
Collared shirts with small logos, stripes, or patterns should all be appropriate for the course and clubhouse.
If they're more your style, collared shirts with medium-sized graphics in a pattern or vibrant colors should also be acceptable at nearly all courses.
While any shirt fitting the above criteria will get you on the golf course, we recommend wearing "golf shirts."
Unlike your average polo style shirt, golf-specific shirts are made with breathable materials that handle sweat better and don't restrict your movement.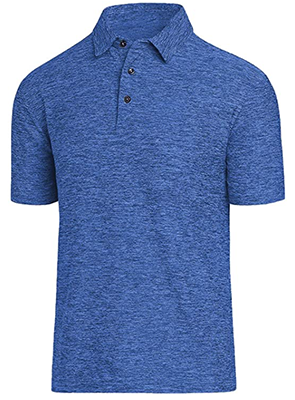 Golf Shorts and Pants
Slacks or golf pants are the safest bet, as they're allowed at all golf courses. With that said, even the most "fancy" private clubs will usually let you wear nice shorts and golf shorts.
Avoid denim, cargo shorts/pants, sweatpants, mesh style shorts, or anything without belt loops. These will NOT be permitted at most golf courses.
As for length, it's best to opt for Bermuda-length shorts (just above the knee) or pants that reach the top of your shoes.
Vibrant colors and patterns are usually permitted, so long as the shorts/pants meet the rest of the criteria. 
Recently, more vibrant colors seem to be growing in popularity, though you may find it harder to put together a matching golf outfit.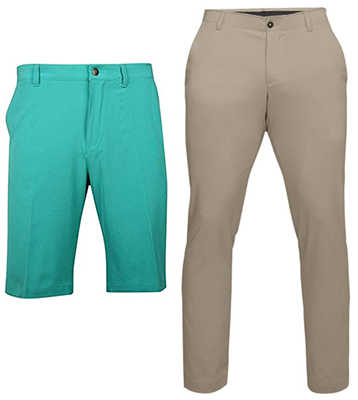 In addition to shorts and slacks, women can also wear skirts, skorts, and capris at most golf courses.
Like with golf shirts, you'll find that golf-specific shorts, pants, etc. to be more comfortable than your average pair of khaki shorts/pants for playing golf.
Belts
Many courses require belts as part of their golf dress code. 
Regardless if they're required at your course, you'll want to wear a belt. The last thing you want to worry about during your round is keeping your pants around your waist.
While almost any belt will do, you're probably best opting for a product made specifically for golfers.
Most golf-specific belts are made from light and stretchy materials so that they're comfortable to wear and don't hinder your golf swing.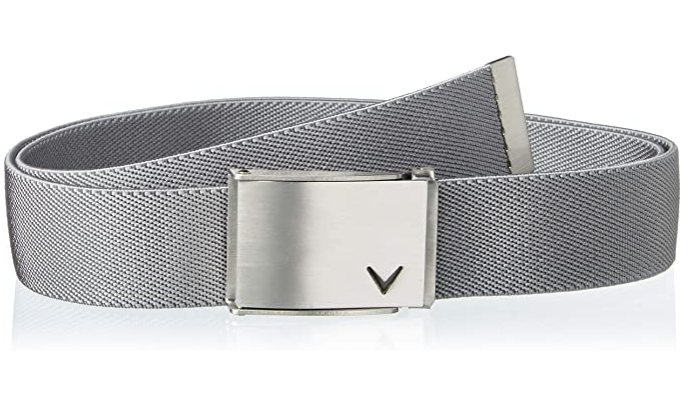 Golf Gloves
Golf gloves are strictly OPTIONAL, though we STRONGLY RECOMMEND one for performance.
Throughout the round, especially in hot weather, your hands will get sweaty. This can cause your golf club's grip to slide or rotate in your hands, resulting in inconsistent strikes and offline shots.
The majority of golfers wear a golf glove on their lead hand. For right-handed golfers, this means a glove on your left hand. 
If your hands get particularly sweaty or you struggle to maintain your grip, you can consider wearing a golf glove on both hands. On wet days, it's even more common to wear gloves on both hands.
Most pro and recreational golfers remove their glove(s) when putting for improved feel and control. It's also common to go gloveless near the green for short chip shots, again for improved feel and control.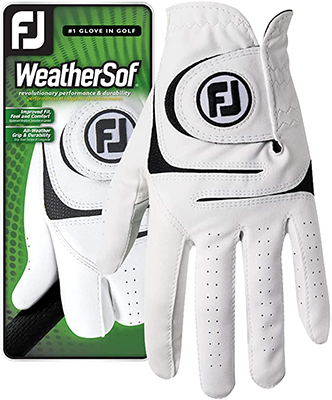 Golf gloves typically only last 5-10 rounds before getting worn out, meaning you'll have to purchase new ones regularly.
Golf Shoes
You probably don't need golf shoes as far as the dress code is concerned at most courses and golf clubs, but they will improve your traction and, potentially, even your comfort.
While we recommend golf shoes, don't let a lack of them prevent you from getting on the course. Most courses and clubs will be fine with black or white tennis shoes. Basketball shoes, casual attire shoes, or running shoes, however, probably won't fly.
For golfers looking to improve their traction, we recommend soft spike or spikeless golf shoes. Most courses no longer allow metal spikes.
A good pair of golf shoes, like those from made by FootJoy, will be breathable and water-resistant/waterproof.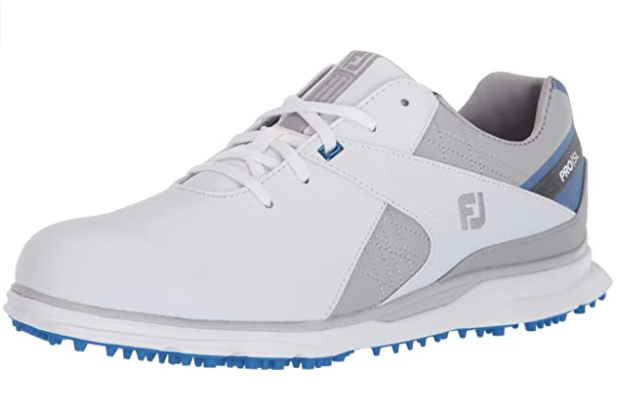 Hats, Caps, and Visors
Pro golfers don't just wear hats for more advertising real estate.
Hats/caps keep the sun and rain out of your eyes. They'll also help to protect your skin from prolonged sun exposure.
Hats are optional, but most golfers prefer to wear them. Visors seem to be popular among female golfers.
If it's not an outright rule, it's often frowned upon to wear your hat or cap in the clubhouse. Some courses also do not allow wearing hats backward.
As far as the options go, we like a breathable cap. For maximum protection against the sun, consider a bucket hat.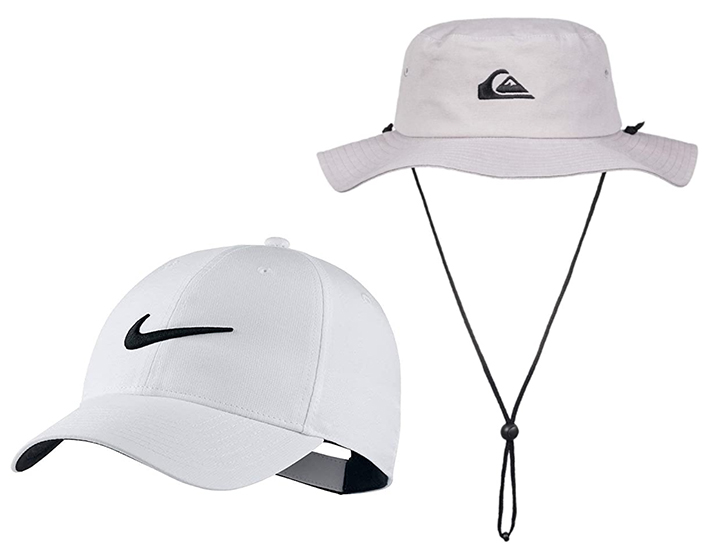 Socks for Golf
There's no need to overthink the socks you wear on the golf course.
While some people opt for unique patterns and designs, black or white athletic socks will be comfortable and absorb sweat.
We'd recommend socks that go a few inches above your ankle or at least slightly past your shoes to protect your heels throughout a round.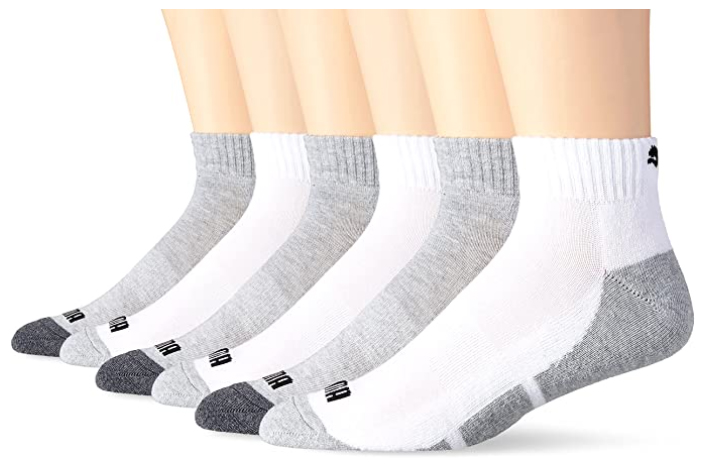 Further Reading
That covers the essentials of what to wear golfing for the first time.
If you're new to golf, be sure to check out:
The above knowledge will make you feel more confident around the course and teach you how to do your part to maintain golf courses when playing.